Upholstery Is Fabric Just like clothes; When Did you wash yours last?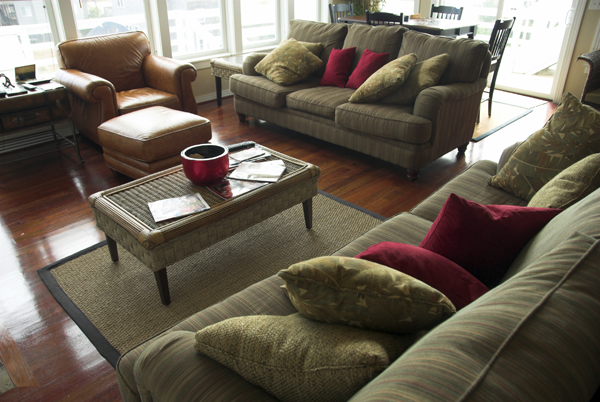 Albemarle Fabric & Floor Care Specialists is experienced in cleaning the finest of upholstered fabrics. We strongly advise our clients to have their fabrics cleaned at least once a year with our 12 step cleaning process to get your full investment out of you furniture as well as maintaining a healthy environment. There are dust mites in your furniture, and they continue to multiply when your furniture is not cleaned regularly. Your clothes are fabric just like your upholstery – would you wear the same clothes everyday for a year without cleaning them?
Step 1: Pre-Inspection – Our associate will do a thorough inspection of you fabric to determine what kind of a material it is (Synthetic or Natural). This will help us decide what cleaning solutions and techniques to use, so we can get the best outcome for you investment.
Step 2: Pre-Vacuum – All fabrics should be vacuumed thoroughly before cleaning. This step will help remove dry soil and loose particles form the fabric.
Step 3: Pre-Condition – Depending on your fabric type, we will mix up a special solution designed for your fabric type and soiling condition will be applied to emulsify the soil.
Step 4: Pre-Spot – Stubborn spots are treated with a special solutions to increase chances of removal.
Step 5: Pre-Groom – Your fabric will then be lightly groomed using soft brushes to loosen the soil.
Step 7: Hot Water Extraction/ Rinse – The Soil is then extracted using our Dri-master upholstery tool designed for fast drying. This tool is the very best for cleaning upholstery.
Step 8: Neutralizing – The fabric is then pH balanced to have a soft and fresh feel.
Step 9: Post Spot – Any remaining spots will be treated with special spot & Stain removal products. To get the full investment out of your furniture have our High Quality Fabric Protector applied to your upholstery. This will help reduce permanent stains and wear on your fabric. Click here for more info
Step 10: Post Groom – Depending on your fabric type it will be groom in the same direction to help drying.
Step 11: Speed dry – High velocity air movers are placed on the carpet immediately after cleaning to promote fast drying.
Step 12: Post Inspection – Our associate will then go over the cleaning results with you to insure you are thrilled with the service. If you are unable to be a part of this step we can call you or E-mail pictures of the results.