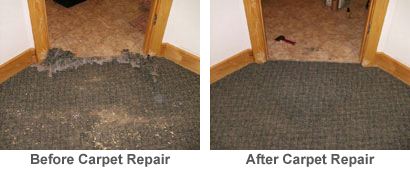 Albemarle Carpet can handle all of your carpet repairs and stretching needs. Whether you need one ripple removed or the whole house re-stretched with a power stretcher, Albemarle Carpet Cleaning can handle it. Bonded Inserts can be used to replace holes and rips in the carpet. There is not a job that's too small or too big for our expert carpet repair specialists.
All stretching prices are quoted by on-site evaluation. Because of the severity of some ripples along with the type of carpet, we cannot quote stretching over the phone.
If you have more specific questions, please do not hesitate to Contact Us.